Fulda/Germany. UTH GmbH will present their latest solutions for the processing of rubber materials and support services at at booth #2C577 during RubberTech China, 4th to 6th September 2023 in Shanghai.
"After a long break, we are very happy to exhibit at RubberTech China in Shanghai again and are eagerly looking forward to this most important meeting place for the rubber industry in China and especially the personal contact with our customers", says Paul Tan, General Manager of UTH Extrusion Technology & Service Shanghai. "It has been so long since we have seen our Chinese customers and partners face-to-face which is why being part of this expo is so important to us", agrees Peter Uth, General Director of UTH GmbH who will be part of the booth team, too.
At the New International Expo Centre the company will be presenting its latest range of products. This will include their further developed roll-ex® Fine Mesh Straining Technology, the novel cost-effective and resource-saving Dual Drive concept as well as the resource-saving TRP Reworker, an innovative technology for the economical reworking of material in rubber processing.
Cost-cutting innovation and digital services
The company's driving force has always been the demand for products of the highest quality as well as for greater cost-effectiveness. The innovation  of this new Dual Drive development is the significantly reduced wear and tear of the rotors of the gear pump when handling abrasive compounds. This increases the long-term productivity of the machines by prolonging lifetime and also cuts  maintenance and servicing costs.
Customer-focused solutions
For more than 35 years UTH has sucessfully established itself on the international market specializing in the development of customer-specific solutions for the rubber, tire and silicone industry. To be highlighted at this expo is the innovative  roll-ex® MDSE which has been developed for a very gentle material processing by batch-mixing, straining and subsequent discharging of silicone compounds and thereby ensuring sustainability and reliability in the processing of silicone  and silicone rubber.
The range of intelligent upstream and downstream equipment, which enables seamless integration in mixing lines of all sizes, is just as much a part of the scope of supply as the essential after sales service.
Further information on the advantages of the modular roll-ex® Gear Pump Technology as well as the extended customer-focused after-sales services, interested parties can find out at booth #2C577 or on the Internet at uth-gmbh.com.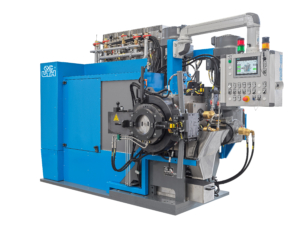 roll-ex® 220 TRF Dual Drive: Cuts maintenance and service costs
due toreduced wear by particularly abrasive compounds
https://uth-gmbh.com/wp-content/uploads/2019/04/uth-gmbh-logo.jpg
0
0
ckoenig
https://uth-gmbh.com/wp-content/uploads/2019/04/uth-gmbh-logo.jpg
ckoenig
2023-09-06 18:23:49
2023-09-06 18:23:49
UTH's innovative solutions for fine mesh straining and processing abrasive rubber compounds